Exertis Almo's E4 Experience events are always a sight to behold – exhibits, training sessions and panel discussions offer plenty of opportunities for integrator and supplier partners, as well as end users. The E4 experience in Boston was no less spectacular! Being our first E4, it goes without saying that we were excited to take advantage of all the deals available on the floor.
Dive into Exertis Almo's E4 experience
The show kicked off with an insightful talk from Gary Kayye on how workspaces need to be digitally transformed to meet the needs of the evolving hybrid workforce. Gone are the days of stepping into a cube-shaped office. Today's workers want the ability to work remotely, wherever and whenever they want. They need immersive meeting rooms. If they come to the office, it must be a place where they want to that is, it should be fun, wow-factor, convenient, and have video conferencing capabilities. As many workplaces are moving away from cubicle-like grounds, they are opting for open-concept floor plans, which will require sound masking for ambient noise.
Furniture and technology must go hand in hand. Digital whiteboards, for example, should not be added "after the fact", but fit into the whole room. The next generation of workers are used to multitasking, collaborating and building relationships online. Generation Alpha, those currently under the age of five, know how to navigate YouTube before they can tie their own shoes. Audiovisual manufacturers will fight against the "good enough" principle of providing technology to this generation. For example, Kayye cited how Apple AirPods or Apple headphones are "good enough" for video conferencing.
Project Crew Multiplier Partnership
Project Crew Multiplier (PCM) exhibited at the E4 Experience Tour in Boston, which offers Exertis Almo resellers and integrators the opportunity to outsource qualified services to develop projects, grow their business and realize higher profits in the short and long-term.
Co-founded by Chris Whitley (USAV Group Founder) and industry veteran Dan Abrams, PCM is a national organization focused on the development and growth of third-party service providers across the low-voltage spectrum. Thanks to this partnership, Exertis Almo resellers and integrators have direct access to the PCM network. This includes fully vetted Crew Network Providers (CNPs) who offer nationwide project labor and installation, drafting, programming training, staffing and rack builds, as well as logistics and staging, and additional labor services.
Keep an eye out for an exclusive interview with the founders of PCM in the coming weeks only on CommercialIntegrator.com.
Bringing diversity, equity and inclusion to organizations
Another highlight of the E4 experience was the DEI roundtable led by Kimberly Lonas, Alesia Hendley and Elizabeth Cox. The discussion focused on how organizations can start conversations about instilling the values ​​of diversity, equity and inclusion in the workplace. Here, the three wonderful women provided insight into the various corporate programs, policies and strategies needed to elevate these values.
The session also focused on a little-known topic – designing workspaces for neurodivergent people in offices. Cox, a senior partner at HOK, developed the need to create spaces for people who need to center themselves in their environment. Hendley, a multimedia journalist, as well as a business development representative at Audinate, also chimed in, saying, "Audio needs to be proactive rather than reactive."
Summarizing the discussion, Lonas, Global Diversity and Inclusion Program Manager, Exertis Almo, emphasized that differences between people are normal and not deficit. "So it is our responsibility to make sure that everyone [within the organization] feel part of [workplace] family," she advises.
Keep an eye out for an expanded version of this discussion in the coming weeks only on CommercialIntegrator.com.
NSCA Roundtable on Integrator Challenges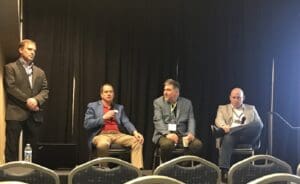 NSCA Executive Director Tom LeBlanc led a discussion on the business challenges integrators will face in 2023. Supply chain, of course, was a hot topic. LeBlanc says, "We can't solve it; nobody can, but what integrators can do is focus on what you can control.
Integrators must wear more hats than ever. The days of selling boxes are over. "If you're doing business the way you were five years ago, you won't be in business tomorrow," adds LeBlanc. When products are not physically in stock, customers turn to cloud-delivered systems. This represents an opportunity for integrators to increase their revenue as the market for IoT devices is set to grow.
Look for additional coverage of the NSCA roundtable in the coming weeks on CommercialIntegrator.com and in print.
E4 Experience Boston pit navigation
The exhibit space was buzzing with excitement as integrator partners and end users witnessed the dazzling display of products and solutions! One of the key themes we noticed was the offering of simple plug-and-play solutions by a number of companies.
Another aspect highlighted by the participants was the intimate setting of the exhibition halls. In their opinion, it provided a real opportunity to connect with other customers. Not only that, but attendees also got to experience the products on a deeper level. "We really got to talk to people at this E4! We've been around since the first leg of the E4 2022 tour; and each time we've built great relationships with potential partners and sponsors," enthuses a Jabra exhibitor.
Click on "Show slideshow" in the upper right corner to see some of the stalls.
Overall, the Exertis Almo E4 experience continues to provide excellent learning and engagement opportunities. Whether you are an end user, integrator, thought leader or manufacturer, there is something for everyone!